IND VS AUS T20 SERIES RESULT SERIES EQUAL TO 1-1
IND VS AUS 3RD T20 RESULTS AND SERIES EQUAL TO 1-1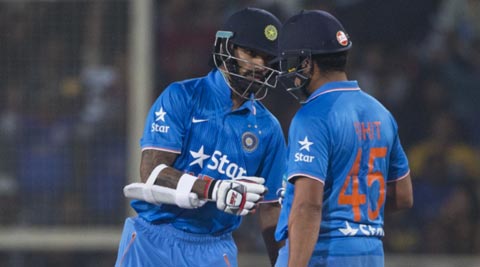 AUS 164/6 (20.0 Ovs)
IND 168/4 (19.4 Ovs)
India won by 6 wkts
PLAYER OF THE MATCHKrunal Pandya
PLAYER OF THE SERIES
Shikhar Dhawan
India preserve their unbeaten run which now stands at 9 T20I series. It could've been better if not for the Melbourne rain, but that's how it goes. Both teams share the trophy. That's all from here. Onto the Tests now where the Adelaide Oval awaits. Until then, this is Sagar Chawla saying goodbye on behalf of Sriram, Hariprasad Sadanadan, Raju Peethala and our scorer Shashikant Singh.
Kohli, India captain: Things become pretty easy when those two (Shikhar and Rohit) guys do the job for us. We thought the wicket slowed down with the old ball. That's how T20 cricket goes. You lose momentum, you gain it. DK did really well at the end. Maxi and Zampa both bowled well, especially Maxi who has a gut feel of the batsmen. Overall, skill wise, we were better on the day than Australia. When our openers get into the zone they're difficult to stop. I come in at three and attempt to take us home. With the ball, we were more professional today. I thought it was a 180 wicket. Weather is uncontrollable. These are things you have to accept as a sportsman. A level series is a fair reflection of how the teams have played. Tonight also the fans were really loud and motivated us to the win.
Finch, Australia captain: They batted extremely well in the powerplay. Always tough to bring it back from 1/67. If we had few more runs, would've had a chance. The way that we fought was brilliant. Rohit and Dhawan are totally different styles of batsmen which is tough for bowlers. That's why they've been a great opening combination. Guys had a plan, just didn't execute in the middle overs with the bat. Still fair bit of work to do but we're going in the right direction which is nice. Feeling good for the Tests. Obviously a totally diffenrent format. Will get down to Brisbane and prepare for 5-6 days.
Dhawan, MoS: Guess they love me a lot and I'll make them cheer more *thigh-slaps* Tremendous to see Indian support. I'm sure they'll support us for the Tests too. It was fun. As a batsman, when you score it always feels good. It's good that we were able to draw this series.
Shikhar Dhawan is Man of the Series for scores of 76 and 41
Krunal, MoM: Feels great to contribute to a win. Was preparing myself after that first game where I went for runs. All the wickets were my favourite because I wasn't getting any wickets and they were hammering me in the first game. Best part of our team is that they back each and every player