Fani Cyclone: Cyclone Fani makes landfall in Puri on Friday morning.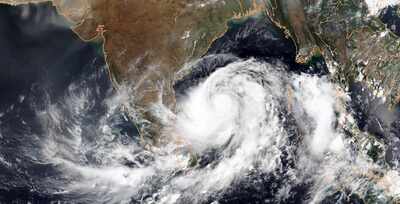 Bhubaneswar After being super-cyclone in 1999, Fani, believed to be the most dangerous hurricane, hit the Puri coast of Odisha around 8:30 am on Friday morning. This has damaged many houses. Thousands of trees and electric pillars fell. Water was flooded in the lower settlements. At the time when the storm hit the Puri coast, airspeed was 175 km/hour. In some places, it reached 200 km/hour. Meanwhile, two people have died.

State Special Relief Commissioner of Odisha BP Sethi said, "I can confirm two deaths at the moment. An elderly was killed by a heart attack. While the other person went into the storm despite the warning. He died after falling in the tree. "Fani is now moving towards Bengal. The rains have started in Kolkata.

Earlier, due to the Fani storm, the Election Commission lifted the Code of Conduct from four districts of Andhra Pradesh - East Godavari, Visakhapatnam, Vizianagaram, and Srikakulam. This decision was made due to possible constraints in relief work.

According to the Meteorological Department, Fani will grow from Bengal to Bangladesh, so warnings have also been issued in coastal areas of West Bengal. Earlier, in Odisha, 11 lakh people were taken to safer places from 15 districts as a precautionary measure. This is the most dangerous hurricane to hit Odisha in 20 years.
Emergency numbers
Odisha- 06742534177, Home Ministry- 1938, Security- 182
Updates ...
Mutanjay Mohapatra said the storm is expected to be weak in the next three hours. Wind speed will range from 150 to 160 km / h. It will gradually become weak and move north-west.
Delhi Meteorological Department's Muktijay Mahapatra said, "Fani went ahead from Andhra Pradesh. This has caused heavy rains in three districts of the state.
West Bengal Chief Minister Mamata Banerjee canceled all her rallies for 48 hours.
In Calcutta, the effect of Fani has started to appear. The rain started here.
The main center of Fani is overtaking Odisha.
Due to the storm in Odisha, the rainy season is expected to continue till noon.
The Meteorological Department said that the main circle of Fani was about 25 kilometer. Winds blowing at 150 to 175 km/hour were affected by this effect. In some places, it reached about 200 km/hour.
NDRF said in the advisory - Do not go to damaged buildings after the storm. Do not touch the open electrical wires. Fisherman keeps the radio set with extra batteries.
NDRF started rescue operations in the affected areas.
The tremendous impact of Fani in Bhubaneswar, Berhampur, Balugaon, many trees fell.
Puri with heavy rain in most coastal areas of the state. Rain accompanied by strong winds in Visakhapatnam, Andhra Pradesh, with the effect of Fani.
3 naval ships posted for relief work

Coast Guard has said that 34 relief teams and four coastal vessels have been deployed for relief work in view of cyclone storm. Naval spokesman Capt DK Sharma said in Delhi that the ships of Navy Sahyadri, Ranvir and Kadmat have been deployed with relief materials and medical teams.

5000 Kitchens Made

28 of NDRF, 20 units of Odisha Disaster Management Rapid Action Force and 525 of Fire Safety Department are engaged in rescue operation. In addition, 302 Rapid Response Team of Health Department has been deployed. To arrange food in relief camps, 5000 kitchens have been made.

Traffic in coastal districts closed

Rail, road and air traffic were completely closed during Fani coastal districts of Odisha. All flights to Biju Patnaik International Airport from midnight on Thursday are barred for 24 hours. The Kolkata airport will also be closed from Friday night till Saturday evening.


14 districts of Odisha will be affected by cyclone

Cyclone has an impact in 14 districts of Odisha. These include Puri, Jagatsinghpur, Kendrapara, Balasore, Bhadrak, Ganjam, Khurda, Jajpur, Nayagarh, Cuttack, Gajapati, Mayurbhanj, Dhenkanal and Kayonjhar. Cyclone will move towards West Bengal after Odisha. Its effect will also be seen in the northeast areas of Andhra Pradesh and Tamilnadu. In West Bengal, east and west, Medinipur, South and North 24 Parganas districts, Howrah, Hooghly, Jhargram, Kolkata, along with Srikakulam, Vizianagaram and Andhra Pradesh's Visakhapatnam district can also be affected by the storm.

The most dangerous storm to hit Odisha in 20 years

According to the Joint Typhon Warning Center (JWTC), Fani storm can prove to be the most dangerous cyclone in the past 20 years. About 100 thousand people were killed in Super Cyclone in 1999 in Odisha. According to the Indian Meteorological Department sources, this is the first time in the last 43 years that such a cyclonic storm has taken place in the sea area present in India in April. According to Sharat Sahu, former Director of Regional Meteorological Department, there were storms in the summer of 1893, 1914, 1917, 1982 and 1989 in Odisha. But this time the cyclone is made from the Bay of Bengal warming. So it can be more dangerous.